Clinical Resources for Physiatry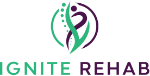 Ignite Rehab is an outpatient private practice providing therapeutic services (occupational, physical, and speech therapy) to individuals of all ages and conditions. Ignite offers the following therapeutic services:
Physical Therapy
Occupational Therapy
Speech Therapy
Chiropractic Care
Sports Medicine
Home Health Services
To learn more about Ignite Rehab, please click the button below.
Interested in joining us as a member of the New Jersey Society?