Meet Our Speaker
Giovanni Campanile, MD
Cardiology, Integrative Medicine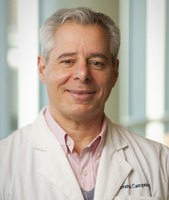 Dr. Campanile is a clinical and preventive cardiologist and the founding director of Palm Health at the Chambers Center for Well Being in Morristown, NJ. He is a Harvard trained cardiologist – Lahey Clinic Foundation, Massachusetts General Hospital, Beth Israel Deaconess Medical Center.
He is the former director of the Dean Ornish Intensive Cardiac Rehabilitation Program and Integrative Nutrition and Integrative Cardiology at the Chambers Center For Well Being at Morristown Medical Center / Atlantic Health System. He is quintuple board-certified in internal medicine, cardiology, interventional cardiology, the American Board of Integrative and Holistic Medicine, and American Academy of Anti-Aging and regenerative medicine.

Dr. Campanile is assistant professor of medicine at Rutgers New Jersey Medical School and an instructor for cardiology fellows at Lenox Hill Hospital in NYC and Columbia University Mount Sinai, Miami.
Dr. Campanile was a researcher at the world-renowned Framingham Heart Study and is currently investigating integrative modalities with the National Institute of Health, Rutgers New Jersey Medical School, Duke University and Yale University. He is co-editor and wrote the chapters on sports cardiology and lifestyle medicine for the first textbook on iatrogenicity in cardiovascular medicine. He has also been a contributing editor and medical writer for Shape and Men's Fitness magazines.

Dr. Campanile, together with his wife, Sandra Cammarata, MD, co-authored a book on the health benefits of the Mediterranean diet from Sicily, "The Sicilian Secret Diet Plan." Dr. Campanile was a cardiologist for former president of the United States, George H.W. Bush.

Dr. Campanile has been practicing clinical, preventive, and functional cardiology for over 15 years and has been a member of an advisory board at Bastyr University. He has been an instructor of nutrition, herbology and integrative medicine at Florida Atlantic University, and is a certified aromatherapist. Dr. Campanile has been named "Top Doctor" in Cardiology by New Jersey Monthly magazine for multiple years.